22 May, 2009
Blu-Ray loads a lot slower than DVD!
Posted by: Kristian In: Gadgets|Technology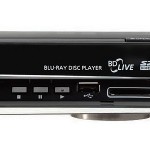 I recently bought a Panasonic DMP-BD605 Blu-Ray player. When I tried to play a Blu-Ray movie, I found that it loads a lot slower than DVD! Some google searches reveal that slow loading is a common problem amongst Blu-Ray players. The quickest Blu-Ray player happens to be the PlayStation 3.
The following video demonstrates how long it takes to load a disc and navigate to the main menu, using a regular DVD and a Blu-Ray disc. I used a Panasonic DMP-BD605 with firmware version 1.5 and Quickstart enabled
Here are the summarized results :
Load Times (min:sec)
Initial load
Go to Top Menu
DVD
0:31
0:06
Blu-Ray
1:10
1:03
As you can see, the Blu-Ray takes more than twice to initially load a disc versus a DVD. What's worse, navigating to the Top menu takes over 10 times longer on a Blu-Ray disc versus a DVD. I cannot believe that people tolerate this kind of latency when they are used to the shorter times on a DVD. It gets to a point that it is way too slow for my taste and I am seriously considering to return this Blu-Ray player.
The picture quality of Blu-Ray is unmatched for sure, but I'll be happy to wait a few more years until load times become more acceptable.