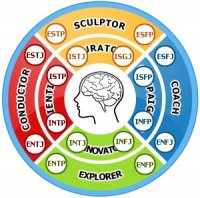 I recently took a Myers Briggs type test on Facebook and the result that I got was ESFJ. This was not surprising as I took the official test in 2002 and also got an ESFJ at that time. So,  it looks like this application is pretty accurate.  The application's result states:
ESFJ (Extraversion, Sensing, Feeling, Judgment)

You are warmhearted, conscientious, and cooperative. You want harmony in your environment, and work with determination to establish it. You like to work with others to complete tasks accurately and on time. You are loyal and follow through even in small matters. You notice what others need in their day-by-day lives and try to provide it. You want to be appreciated for who you are and for what you contribute. Famous people with your ESFJ personality include: Bill Clinton, Sally Field, Danny Glover, Terry Bradshaw, Mary Tyler Moore and Nancy Kerrigan.
Back in 1999, I also took this test as part of my Bible Study home group at Christian Layman Church, and my result was more like an ISFJ. As a kid, I was pretty shy, and I only had a few close friends.  Since then, many things had changed: I experienced a turnaround in my Christian Faith, started to be more outgoing, building relationships with people easily. It felt like the Holy Spirit was awakening me from introversion into extroversion, which was quite amazing. And I believe this change has a purpose!
Over time,  most people will probably stabilize and score consistently in the Myers Briggs test. I've been fairly consistent with my ESFJ, but who knows?  God may have something else in mind, and change me again…